More About Judge Hoffman

Judge Martin Hoffman presides over the 68th District Court of Texas, a civil court with jurisdiction in Dallas County. Judge Hoffman was first elected to this bench in 2006 as part of the historic Dallas County sweep by Democrats that year. Judge Hoffman was a critical leader during that season, campaigning tirelessly. Judge Hoffman has since been re-elected three times and will seek another term in the 2022 election cycle. Judge Hoffman has more than 14 years on the bench, and more than 28 years of combined legal and judicial experience. He has presided over hundreds of jury trials and thousands of hearings in cases encompassing a wide array of civil matters.
Judge Hoffman is avidly involved in the legal community and is known as an innovator, mentor and educator. Judge Hoffman recognizes the importance of bringing new perspectives and diversity into the legal field, and his internship program has given more than 250 law students access to the court and real-word experience on the workings of our civil justice system. He has worked to find opportunities to help the community both on and off the bench. He developed a unique "Foreclosure Fairness" program to address home equity foreclosures and give homeowners a voice in the process and a chance to keep their homes. He has been a volunteer for a range of organizations including Habitat for Humanity. He enjoys presiding over mock trials and was a mentor for the Skyline High School Mock Trial Team. Judge Hoffman is a strong supporter of diversity, from his court internship program to work he does within legal organizations. He has been an avid advocate for granting sister bar status for the Dallas Women Lawyers Association and the Dallas LGBT Bar Association. 
Judge Hoffman takes pride in running a fair, objective and highly-efficient court. He has consistently received among the highest approval ratings for the fifteen civil district and associate judges in the Dallas Bar Association Judicial Evaluation Polls. Judge Hoffman was named Trial Judge of the Year in 2018 by the American Board of Trial Advocates Dallas Chapter. In 2017, the Dallas Women Lawyers Association recognized me as the Outstanding Jurist of the Year. Also, in 2016, he was deeply honored to be awarded the Hon. Cleo R. Steele Committed Mentor Award by the J.L. Turner Legal Association.
Additional past awards include the Texas Attorney Mediators Coalition Outstanding Trial Judge Award, the Texas Tech Alumni Association Outstanding Service Award, the Texas Young Lawyer Association Oustanding Mentor Award and the Dallas Association of Young Lawyers Outstanding Mentor Award. Judge Hoffman has been elected four times by the 11,000 members of the Dallas Bar to the Dallas Board of Directors. He was also selected by his peers at the George Allen Courthouse to serve at the Presiding Judge of the Central Jury Room for 2009, and as the Presiding Judgeof the Civil District Judges for 2014.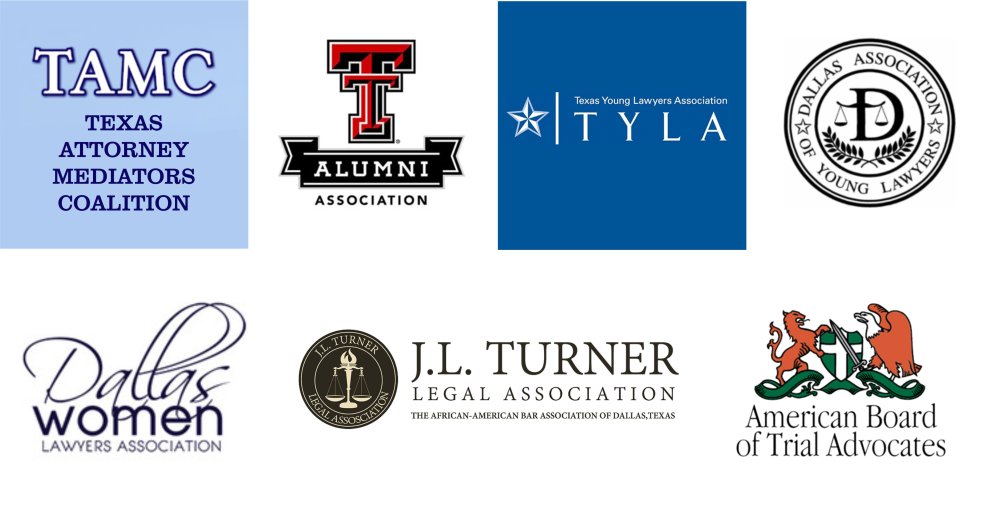 Prior to taking the bench, Judge Hoffman was a practicing civil litigator for thirteen years. He initially worked for the law offices of Windle Turley and later became the litigation manager for the law firm of Smoger & Associates. He is Board Certified in Personal Injury Trial Law. Judge Hoffman received his degrees in economics and philosophy from Trinity University and is a gradate of the University of Texas Law School.
Judge Hoffman is a lifelong Democrat. He was President of the Texas Young Democrats and served as Ann Richards State Youth Coordinator. Judge Hoffman was very involved with the community prior to taking office. He served as president of the Dallas Homeowners League for three years and served on its board for over a decade, training more than 1000 neighborhood leaders. Judge Hoffman met his wife, Heather, while at Trinity. Heather is a speech therapist who works with developmentally delayed children for Coppell I.S.D. Judge Hoffman and Heather have two children, Nick and Emma, who are students at the University of Texas at Austin.